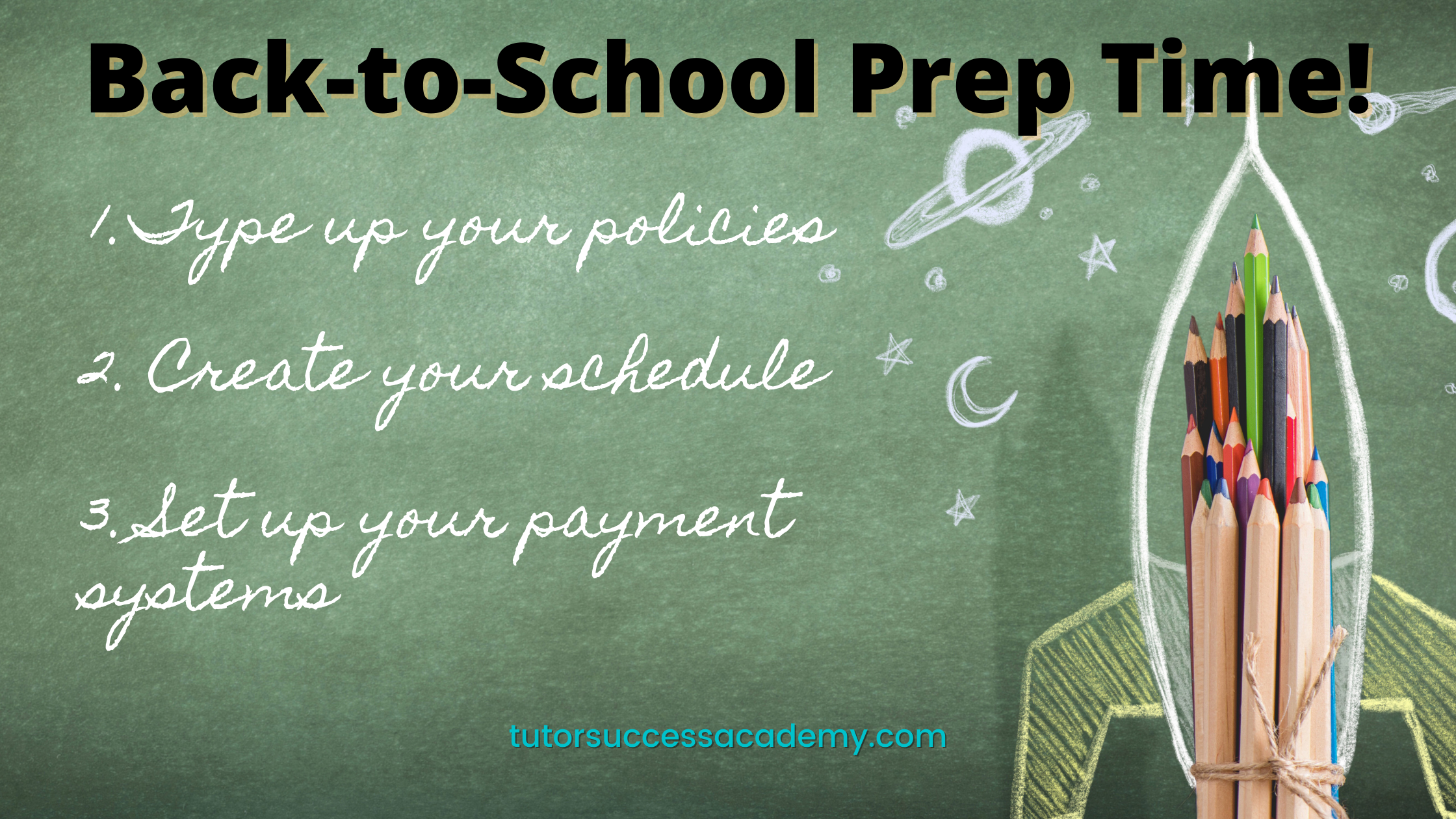 Back-to-School time is just around the corner, and you may be feeling a bit overwhelmed with your to-do list running your tutoring business.
You can't do EVERYTHING, and if you try, your focus will get splattered and you'll get even less done.
So when it comes to the behind-the-scenes tasks to set up for the new school year, focus on the "Big 3" to get off on the right start!
1. Type up your policies.
Policies will make or break your school year. Cancellations, late arrivals, missed sessions, late payments... when these things start to snowball, they add stress and inconsistency to your tutoring business. NOW is the time to decide how you want to handle these situations so you don't spend the whole year "putting out fires" and making decisions in the moment. Being proactive and communicating your policies clearly to your families will actually *prevent* a lot of the situations just mentioned. This can be a simple document or a more polished handbook, but no matter what, it should look professional and communicate your expectations clearly.
2. Create your schedule.
This may seem like a no-brainer, but honestly, a lot of us wait too long to do this! Map out your schedule not just for student openings, but also for YOU to work on the tasks that come with being a business owner. The universe won't just give us time to work on all this- we have to MAKE the time by planning for it in our schedule. So get your students scheduled so you know if you have any openings you will need to fill in the fall, but don't forget to build in time for you to run the business, plan for your tutoring sessions, and have time that is "protected" to not focus on work.
3. Set up your payment systems.
Remember, you're running a BUSINESS. That means there will be a regular exchange of money for services. Decide NOW how that will look. What forms of payment will you be accepting- cash, checks, credit cards? How will you determine and communicate how much is owed each month? Will you communicate this with an invoice that you can easily update every month?
Remember, you are now in the role of Educator and Business Owner, and you want to make a good impression.
Parents feel good about signing up their child to work with you when it is clear they are working with a PRO. A professional has a plan with clear systems in place, and communicates, without a doubt, that they want your child to experience success. This is evident in every step a family takes when choosing to work with you. You instill confidence in their decision from the very beginning, so make sure these "Big 3" are set up to represent your businesses and services as something they can count on and trust.
Ready to make it easier to set up your tutoring business like a pro and make that great first impression? Go get the Tutor Tool Kit, and you'll have pre-designed templates and organizational documents that will save you hours of work- and will ensure that your services reflect the professional that you are!
Get instant access here: