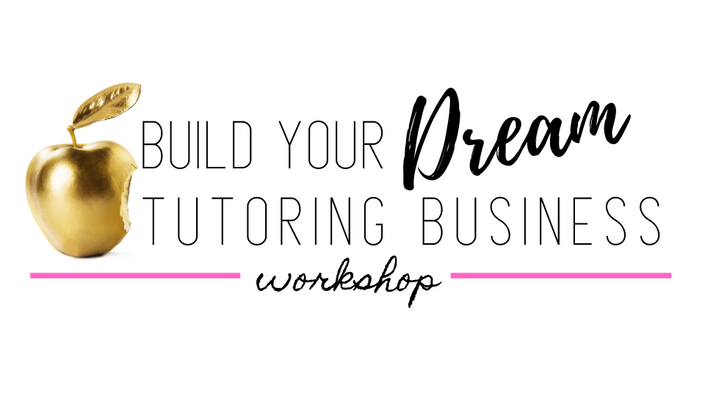 Build Your Dream Tutoring Business- Self Study
Success secrets for running a happy & profitable tutoring business!
Are you ready to make your dream tutoring business a reality?
Join us for this FREE workshop series to learn the success secrets of happy, profitable tutors.

Join Emily and Jill as they unlock the secret ingredients to building a business you LOVE.
Part 1- What's possible when you build a business with YOU in mind?
Part 2- The mistakes (most) tutors make...and how to avoid them!
Part 3- Your success path... Learn how to focus on your best "next steps" based on your stage of business.
This was originally a live, week-long workshop with interactions, Q & As, and prizes. We planned to shut it all down once the workshop was over, but people kept signing up and getting tons of value, even after our "live" week was wrapped up!
While the prizes and the Q & A are no longer going on, you will be on your way to building (or renovating!) the tutoring business of your dreams as you watch the videos and complete the printables that will help you put these ideas into action.
So get your favorite Flair pen ready and enroll now. You'll get instant access and be one step closer to building a business you actually LOVE.

I moved to a new city and have struggled to find a new path. This course has helped me solidify my way forward by figuring out my goals and how to achieve them. -Jennifer J.
Even in just 3 videos I feel so much more confident in the idea of starting a tutoring business that runs as a true business. -Monique D.
Thanks so much for this eye-opening course! This was my first time venturing into your content and I really enjoyed it. I felt chills as I related a lot to what you said. "This is how we do it here" and "calm confidence" are some key phrases I'm taking forward with me! -Caitlyn H.
I have enjoyed and learned from all of the videos. It was awesome to see how many of us had the same concerns and uplifting to know that I was not alone in some of my mistakes. Thank you for this training. It was a big help! -Ginger H.
I joined this page only last week and it was just in the nick of time. I am immensely grateful for the knowledge I have gained this week and I look forward to continue learning with you guys. -Abigail N.
Do you realize that your tutoring business can look like ANYTHING you dream up?!
a side income to bring in extra money for college funds, family vacations, or building your nest egg
a transition into a new, full-time career
your gateway to a business that brings in multiple streams of revenue
part-time work in the afternoon while you stay home with young children during the day
a way to grow your impact by building a tutoring team that can serve the whole community
an opportunity to continue working with students and earning extra income in retirement
whatever YOU want it to be
Frequently Asked Questions
When does the course start and finish?
"Build Your Dream Tutoring Business" started as a limited-time event, but we've kept it open so you can be a part of it at any time! You will get access to new videos and printables for as long as this workshop is available.